"Claim Your

Membership!"

Click here to Join Now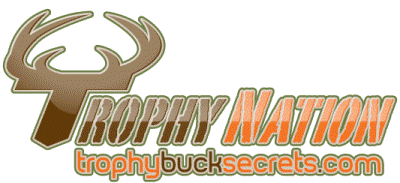 Just take a look at the exclusive members-only benefits you'll get just by belonging to Trophy Nation:


Members-only

access to videos, podcasts, and articles

packed full

of trophy buck secrets. This isn't your everyday advice. These are the proven, real world tactics from top national deer hunting masters like Charles Alsheimer, host of

Deer & Deer Hunting TV

and contributing editor of

Deer & Deer Hunting Magazine.




Plus

dozens

of other trophy buck experts.



Private members only Discussion Forum. Here's where you can connect with other like-minded hunters in your area, or around the country. Share tips, tricks, stories… you might even set up exchange hunts with others in areas you've always wanted to hunt.



Full access to "The Trophy Gallery" – Here you can view, rate and comment on photos, and submit your own prized moment.



Every month, the Trophy Nation member with the top rated photo will receive a special prize for sharing their winning entry.




Members only classified ads – Have some extra gear you want to sell, or looking to pick up something specific? You can post them here and find who or what you're looking for lickety-split.




MASSIVE

library of downloadable resources – You can download videos and audios of hunting strategies from the experts, as well as scouting forms, deer management plans, food plot journals, articles, and tons more…



Member discount pricing on deer hunting products – You'll save a mint by using the Trophy Nation store. And you'll save even more over time as we continually work on new agreements for Trophy Nation members to receive discounts on hunting related products from top manufacturers.


We're talking the
mother lode
of all deer hunting secrets, tips, tactics, strategies, insights and methods for growing, holding, and harvesting
monster
bucks
year-after-year
.
Here's just a small sample of what you'll find in your
Trophy Nation
members-only
website,
TrophyBuckSecrets.com:


1.
and use them to see more deer and have closer shots.

2.

to determine if you're following a buck or a doe... how fresh they are... what they tell you about what the deer is doing… and where it's going.

3.
deer hunters make and how to avoid them! You'll never have to worry about taxidermy bills if you're making

these

mistakes.

4.

, and how this relates to the rut. Once you're armed with this secret, you'll always be in the woods at the right time… every time.

5.



Do deer see color? Does hunter orange alarm them? How does this affect camouflage selection?

Sight is one of a deer's top defenses and you're toast if you don't know how it works.

6.

Demonstrations of when and how to properly use deer calls so that you can call with confidence. You'll see

more racks coming toward you and less white butts running away from you

.

7.

Practical and

effective

scent elimination techniques. You've got to take these measures if you want to overcome the whitetail's number one defense mechanism. Without this knowledge you might as well just be hiking in the woods, not hunting.

8.

What quality deer management is all about and how you can implement your own plan

starting now

.

9.

Custom tailor your food plots to the whitetails nutrition cycle for bigger, healthier deer with

bigger racks

.

10.

Select the best types of plants for your food plots in order to provide

variety and balance

.

11.

Don't waste your time and money with food plots that don't grow anything except

frustration

. Maximize food plot production through these proper soil conditioning techniques.

12.

You've found a bunch of rubs and scrapes… now what?

What do they mean? When and how do you hunt them?


13.



Food is king in the whitetail world

. Identify and hunt preferred food sources and your success is all but

guaranteed.

How do you determine what the deer are eating and when?

Find out now.

14.

Everyone knows that deer like to eat corn, but how do you determine when, where and how deer are using standing cornfields?

Should you hunt there?

Find the answer here.

15.

Identify the particular type of

acorns

that are like ice cream to deer, and the trees that drop them.

16.

Deer love apples and you've found an apple tree. But have the deer found it?

How can you tell if they are eating the apples?

There's a very simple way to tell.

17.

See heart-pounding trophy buck hunts!

18.

And much, MUCH more.
To Your Hunting Success,
David Barrett
Trophy Buck Secrets - Founder
P.S. I know that I value my privacy, and I'm sure you do, too. When you
join Trophy Nation, you can rest assured that we will NEVER rent or sell
any of your personal information – ever.