Trophy Nation Recommends...
Get Your FREE
Food Plot
Cheat Sheet

Featured Articles
Find the latest featured articles here! Okay, we actually feature more than just articles here. You can find videos, audios and other resources here, too.
We generally post new features every weekday, and most of them can be found right here. Click on any headline below to find the full article. And be sure to click the 'view more articles' link at the bottom of the page to read articles you may have missed. Enjoy!
Product Review: The Wright Blind

Prior to the 2010 season, I'd never hunted deer from a ground blind -- turkeys, yes, but not deer. Hard to believe, I know, but I've always been a tree stand kind of guy when it came to whitetails, and for good reason (at least in my mind). . . .
more
What Happened to This Buck?

Every big buck seems to have its own mystery, and sometimes that mystery is a hard one to solve. They fight for breeding rights -- not just sparring matches, either. When two mature animals, each weighing in the neighborhood of 200 pounds and carrying sharp-tined racks, go at it, they're bound to inflict wounds upon one another. . . .
more
It Ain't Over…Yet!

Goodbye fall, hello winter -- and hunting in the winter can be tough, but not impossible. If you're like me and still after a particular buck, you're starting to wonder if you should hang up your hopes until next year. All fall I've been after a nice buck and can't seem to close the deal. Now that it's December, I realize my chances of success are slipping away. After all, I didn't get that buck in archery season during the rut, and I sure didn't get him in gun season. . . .
more
Take the Shot or Let Him Walk?

A nice West Virginia 8-point was standing only 15 yards away facing straight towards me and I had my bow up and ready to come to full draw. All I needed to do was wait for him to turn broadside and he was mine. He stood there for several minutes. Nine does lingered nearby, all of them focused on this buck. He picked at browse and chewed as if contemplating which doe to chase next. Everything seemed at a standstill until he quickly turned and bluffed at a doe behind him. She took off. He stopped again, this time facing straight away. More minutes ticked by. . . .
more
Hunters Sharing The Harvest A Worthy Cause

Hunters who are successful in the upcoming deer hunting seasons are encouraged by the Pennsylvania Game Commission to consider participating in the state's Hunters Sharing the Harvest (HSH) program, which channels donations of venison to local food banks, soup kitchens and needy families. Pennsylvania's HSH program is recognized as one of the most successful among similar programs in about 40 states. . . .
more
Lighten Up This Season

What does it take to kill a big buck? Does it take the latest products and camouflage clothing to be successful? Or is the most important thing you'll carry with you this season in the form of knowledge? The nice thing about knowledge is that it's lightweight and versatile. It's not a back buster, as my grandpa might say, and yet it's the first step toward success. . . .
more
Product Review: Remington Concealer Blind

Hunting from the ground has distinct advantages over hunting from a tree stand. First and foremost, blinds are safer -- there's little doubt that most of the hunting accidents that occur each year are tree stand related. Also, blinds can be set up anywhere, in dense saplings or open fields. . . .
more
Staying Warm

All of a sudden, October is long gone and we're well into November. Goodbye warm weather. Gun season is almost upon us and -- gulp! -- the snow will soon be flying. Not good if you don't like the cold -- but then again, what deer hunter doesn't like the cold? . . .
more
Product Review: Quick Fletch

Archery is a long season, and during the course of such a long season, equipment can take a beating. This year, it seems like the fletching on my arrows has suffered the brunt of it. One reason is probably that I'm constantly practicing. Every time I hunt, before I get out of my stand I take a shot at a leaf on the ground to see if I can hit it. Also, before I leave the house for an afternoon hunt I take a shot or two at my 3D target. . . .
more
Faulty Broadheads or Shooter Error?

In the past, I always took the broadheads I used for granted. All I cared about was whether or not they flew straight and grouped well. I guess I just assumed that all of the broadheads on the market were razor sharp and would kill efficiently. Boy, was I ever wrong. . . .
more
Two-Hunter Tactics

It's often said that hunting is a solitary sport, but it doesn't always have to be. Done right, tandem hunting can be extremely effective. Before we start talking about two-hunter tactics, though, I must offer this piece of advice. Two hunters in the woods doubles everything, not just your chances of tagging a nice buck. Two hunters means twice the noise walking in and out of the woods and twice the human scent dispersing throughout the area. . . .
more
Safety Harnesses -- When Will You Start Wearing Yours?

It might be the most important piece of equipment you need to buy. Hopefully you'll never have to actually use it. But if you do, can you depend on it to save your life? If hunting whitetails has a drawback it's this: whitetails tend to move best during the first and last few hours of daylight. Morning hunts mean early get ups. And for most of us, evening hunts mean sneaking into our tree stands after a long day of work. What does this have to do with safety? . . .
more
VIDEO: Improve Your Skill At Estimating Range

One of the most common reasons hunters miss deer is because they inaccurately estimated the range of their shot. Fortunately, this is completely preventable. Ralph shares some tips with you in this video on how to improve your range estimation skills. Don't miss another buck because you shot over or under him . . .
more
VIDEO: Treestand Test Drive

There are lot of things that can go wrong when you're hunting trophy bucks. It's wise to plan ahead and eliminate as many potential pitfalls as possible before the season begins. One way to prevent unhappy surprises is to take your treestand for a pre-season test drive. Ralph shows you what to look for in this video . . .
more
Panther Vision's PowerCap™ Lighted Cap Gives the Power to See in the Dark

The new Panther Vision 3-LED PowerCap™ lighted cap gives serious hunters, night anglers, and outdoor enthusiasts the power to see in the dark while keeping their hands free. Since the LED's are built into the cap, as long as you are wearing your cap, you'll always have hands-free light at the squeeze of a button. . . .
more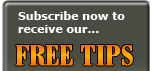 Do you plan to hunt out of state this season?