Trophy Nation Recommends...
Get Your FREE
Food Plot
Cheat Sheet




Featured Videos

Are you looking for online videos that will raise your whitetail IQ, or maybe raise your heart rate? Then you've come to the right place!

Just click on a link to play a video. Refresh your browser if a video player doesn't automatically appear when you click one of the links below.
VIDEO: Capture Your Trophy Moments Forever With Great Photos

Every time we head in to the deer woods we have the potential for creating the memory of a lifetime. Why do we spend so much time scouting, planning, practicing, preparing and hunting only to be in a huge rush when our great moment acutally happens? In this video, Ralph shares some excellent tips on capturing your memorable moments forever . . .
more
VIDEO: Protect Your Hearning When Shooting With Pro Ears

Do you know somebody who has lost some of their hearing because of excessive shooting without ear protection? Don't let it happen to you! In this video, Ralph shows you a nifty product that protects your ears while shooting without the drawbacks common to most hearing protection devices . . .
more
VIDEO: Jump Start the Rut With Mock Scrapes

In this video, Ralph shows you how he sets up a mock scrape with Tink's Power Scrape. This can be a very powerful tactic for jump starting rutting activity in your area. Watch Ralph as he shares some tips to consider when setting up your mock scrapes this season . . .
more
VIDEO: Setting Up A Mineral Site With Vita-Rack 26

In this video, Ralph shows you how he sets up a mineral site with Vita-Rack 26. Bucks need a good supply of minerals to promote health, body mass, and antler growth. Vita-Rack 26 also provides another unique big benefit for the health of your herd. Watch now to discover what it is . . .
more
VIDEO: Postseason Scouting and the Second Rut

Your postseason scouting is just as important as preseason scouting when it comes to determining how successful you'll be next season. Take a walk around the woods during January and February and you may be amazed at what you find . . .
more
VIDEO: How To Make Your Own Antler Mount

Sometimes you get a buck that's not big enough that you want a full shoulder mount to hang on the wall. An antler mount is a nice alternative. In this video, Ralph shows you everything you need to make a great looking antler mount. So, get those old racks of yours out of that box in the garage and get them up on your wall . . .
more
Wally Carr's 176" PA Monster

Wally Carr of Western Pennsylvania is a super deer hunter, and a proud Trophy Nation member. Earlier this Spring, Wally joined us at some PA outdoors shows to conduct Big Buck Seminars along with Dick Blauser. Listen as Wally shares the great story of how he arrowed this giant on the last day of the 1996 PA archery season. . . .
more
Making Sense of Scrapes

Every good deer hunter knows that scrapes are important, but what can you learn from examining them more closely? Dick shares a few tips in this video that will help you understand when and how to hunt scrapes . . .
more
Brassica Food Plot Update

Dick gives us an update on the progress of some of his food plots in this video. The brassicas look great, but the clover's not so good. Watch the video to find out what made the difference and maybe you'll learn a few things for your own food plots . . .
more
Everybody Loves the Cherry on Top, Even Deer

Dick Blauser had been seeing deer congregate along a fence row of trees separating two large fields. We decided to go see if we could figure out what was drawing them in. Watch this video to see what we found . . .
more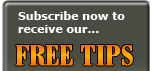 Do you plan to hunt out of state this season?