Trophy Nation Recommends...
Get Your FREE
Food Plot
Cheat Sheet

Managing Your Account
Want to update your email address, change your username or password, update credit card information, or review your current subscription status? Find the links below to to all of that and more. Please note: to protect your privacy, you will be asked to re-enter your password before you can view your personal account information.
Terms of Use
We invite our subscribers to enjoy all the features this site has to offer. But we must require that each subscriber abide by certain rules so that no one's rights are stepped on. . . .
more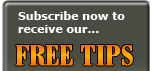 Do you plan to hunt out of state this season?