Trophy Nation Recommends...
Get Your FREE
Food Plot
Cheat Sheet

Free Deer Hunting Videos
We scour the web to find useful videos for you.
Just click on any video below to view it. If the player doesn't appear try refreshing your browser.
VIDEO: How To Score Your Whitetail Buck's Rack.

Have you ever wondered what your buck 'scores'? Ralph shows you how to score a whitetail buck's rack in this video. Watch and learn so you know what to say the next time a fellow hunter asks you, "What's he score?" . . .
more
Dave Picks Up His 2008 Back Yard Buck

Ride along with me to the taxidermist as I pick up my new mount. This is the buck I shot right in my "back yard" during the 2008 PA rifle season. It's not a monster, but it's a very respectable PA 10 point . . .
more
Outdoor Answers

Jim Carbaugh shares some very practical hunting tips in these Outdoor Answer videos. They are quick and to the point with nothing but solid information that will make you a better hunter today.
. . .
more
VIDEO SERIES: Archery Equipment Beginners Guide Part 4

Tool boxes are useful for storing bow repair supplies such as Allen wrenches, nuts and bolts. Learn more about the importance of keeping a tool box for your archery repair tools and supplies in this free archery equipment lesson. . . .
more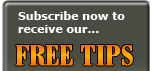 Do you plan to hunt out of state this season?